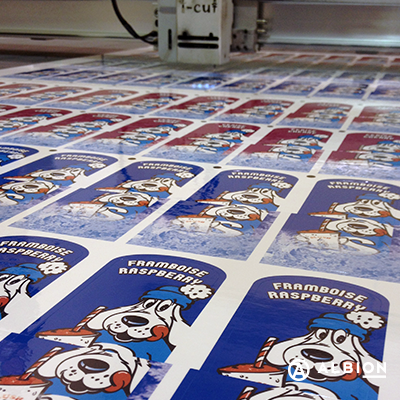 Albion Is A Cut Above When It Comes To Die Cutting
Why die-cut? In many cases shape can shape the impact that a marketing project has. Think decals, dimensional counter displays, fridge magnets, announcements and uniquely shaped point of purchase materials. In other cases a specific shape can be required to precisely fit an exact space such as the faceplate of a remote control, the panels of a piece of electronic equipment or along the wheelwell of a police or emergency vehicle. And then there are specific applications such as kiss-cut labels, door hangers and parking hang tags. In all these cases, be they whimsical or practical, die-cutting is the answer.
Albion has over thirty years of experience of incorporating precise die-cutting as a finishing touch into both digitally printed and screen printed projects. Our well-equiped shop includes traditional flat bed, rotary and digital die-cutting equipment or as some people call it, industrial strength cookie cutters.